(This post took me 2 hours to put together... I submitted it to the Top Model community, but on the off chance it doesn't get accepted... I don't want my 2 hours to go to waste. So enjoy my recap of the Fiercee Awards. Tyra, thank you for providing me hours of time-wasting crack. <3)
So I screencapped the Fiercees for those of you who missed 'em. If you couldn't be there, and you couldn't watch it on TV... this is the next best thing!! :D
And, uh, I guess spoilers for the Fiercees behind the cut. If you don't want to know who won what, don't click. ^^;;;

The first bit was just people arriving - the same photos we've seen circulating for a while now...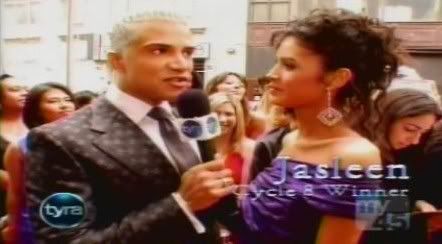 ...but I thought this was notable. Tyra, GET YOURSELF SOME SPELL CHECK. Or rather, get yourself some better editors. Saleisha's name was spelled wrong on your website and Jaslene's name is spelled wrong on your show.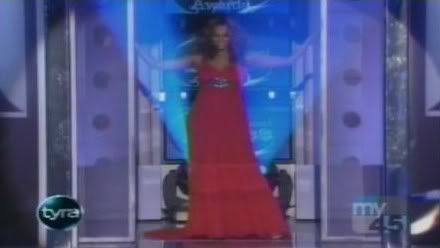 The grand poobah enters.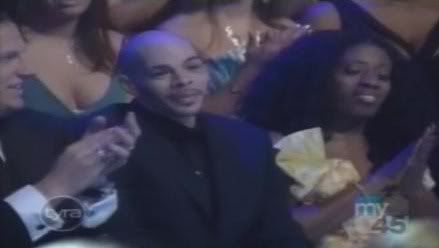 Benny was there! Hi Benny!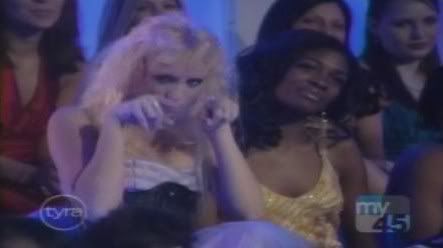 Tyra told the audience to smile with their eyes. This is Jael smiling with her eyes. And her hands.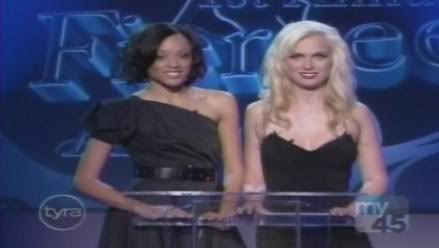 Saleisha and CariDee present the first award, Biggest Makeover Meltdown...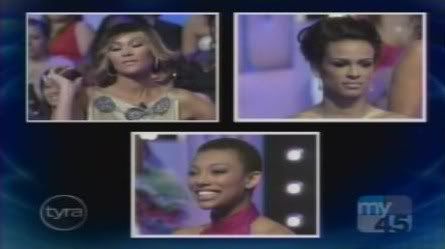 The nominees are Jaeda (cycle 7), Bianca (cycle 9) and Jade (cycle 6). A big LOL at Jade in this cap.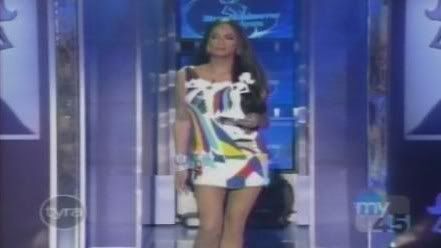 Tyra introduces us to the trophy girl... SUTAN! Sutan is hella fierce.

And the Fiercee goes to...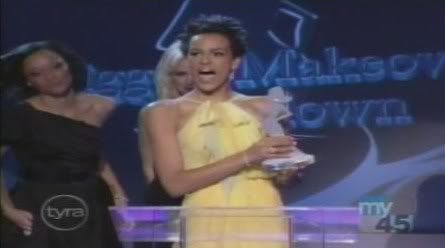 Jaeda!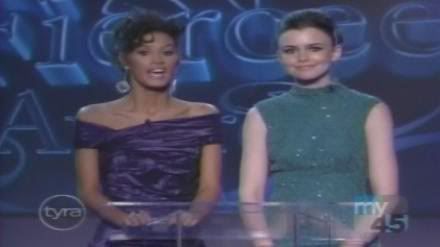 Jaslene (or Jasleen, I guess) and Nicole present the next award, craziest phone call. The Tyra show gave them cheesy award show banter, but Jaslene and Nicole were the most painful to watch/listen to. Jaslene kept flubbing and pausing in the wrong places... and Nicole was soooo stiff. Do not want.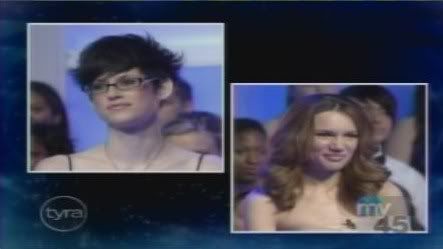 The nominees are Shandi (cycle 2) and Natasha (cycle 8).

Before the award is given, Tyra has this golden nugget to add...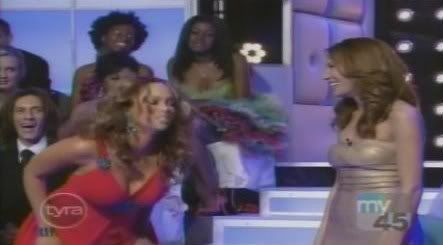 "You know what's so funny? When I saw that in the editing bay, editing Top Model... I was like 'Am I supposed to talk to my man like that? Am I supposed to...?' Cause I'm just like, 'Hey, yeah, you know, I'm working. I'll see you tonight.' Should I put my phone on the bed and be like..."
And the Fiercee goes to...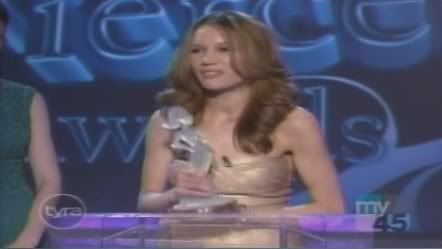 Natasha!
She preceeded to thank her friends, family, and the production staff of ANTM... which was hillariously inappropriate given the nature of the phone call that won her the award.

Tyra personally presented the Lifetime Achievement Award to...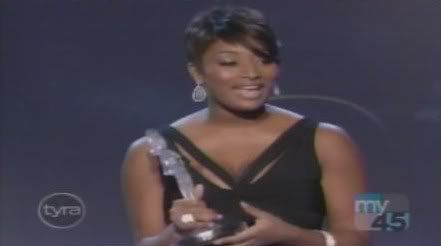 Toccara! F-A-B-O!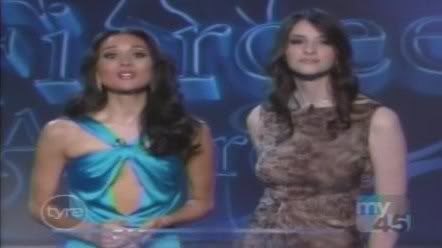 April and Heather presented next. Worst Walks and Wipe Outs.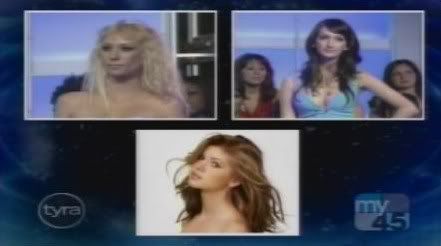 The nominees are Rebecca (cycle 4), Norelle (cycle 3) and Jael (cycle 8). Rebecca couldn't make it to the show because of her new baby, which is why she has a placer photo.

And the Fiercee goes to...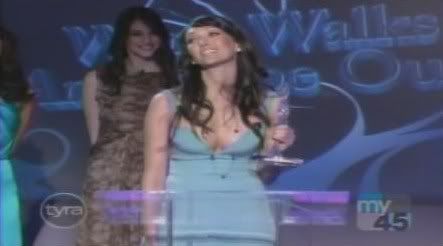 Norelle!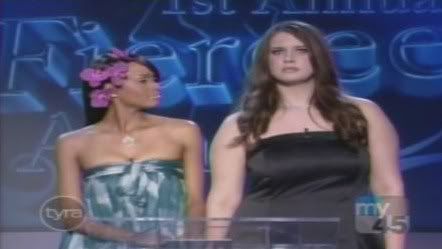 Camille and Diana present Most Dramatic Exit. And can I just say... WHOA. Diana has ballooned even bigger. Look at her head. It's way too small for her body! It looks like she had a run in with a voodoo head shrinker and lost.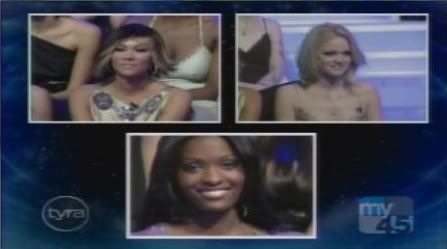 The nominees are Ebony (cycle 9), Kimberly (cycle 10) and Jade (cycle 6).

And the Fiercee goes to...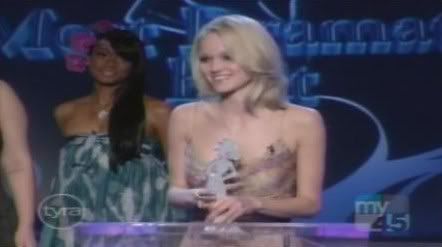 Kimberly! Jade. Was. Robbed.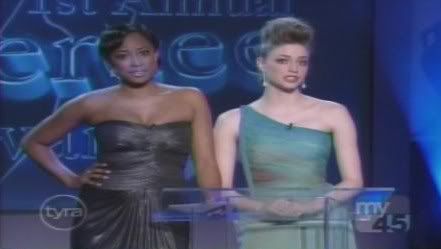 Keenyah & Jenah present Ugliest Cry...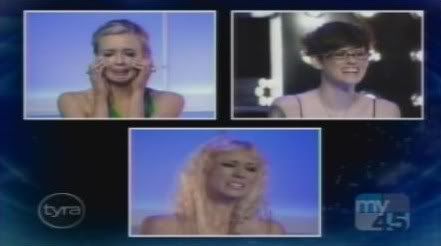 And the nominees are Joanie (cycle 6), Shandi (cycle 2) and Jael (cycle 8).

During the interview-y part... Jael insists that Tyra didn't teach her how to "cry pretty". So Tyra teaches her on the spot.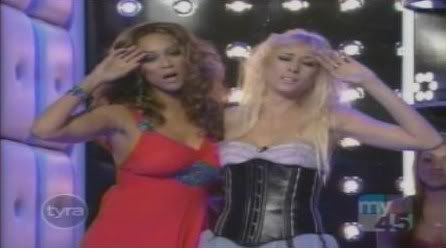 And the Fiercee goes to...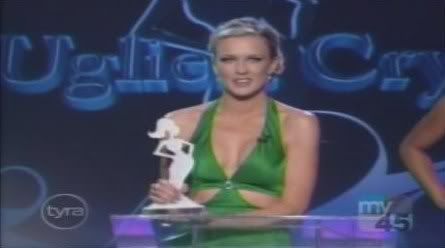 Joanie!

Tyra reveals that Joanie's new smile cost Top Model $30,000! :O

And last but not least - the FINAL award for the night, er, day... is another one Tyra personally presents, Most Dramatic Makeover. Our big winner is Shandi!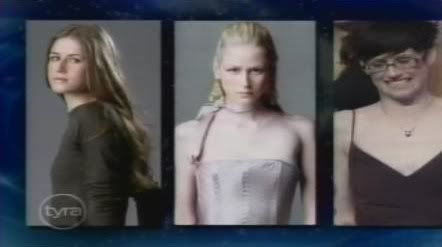 Just in case you don't remember... Shandi pre-show (geeky pretty), Shandi post-makeover (blonde bombshell)... aaaand the trainwreck that is Shandi now.
Tyra says: "see ya next year!"