I'm starting this nifty project a week late -
52 Ancestors in 52 weeks
. It seemed like starting with my great grandfather, Frank Gilmore Jones, was as good a place as any.
Frank Gilmore Jones
was born on September 14, 1891 in Jefferson, Ohio to
Thomas & Catherine (Farley) Jones
. He married
Anna Miller
on April 19, 1915. He moved to Michigan in 1967 to live closer to my grandfather,
Robert
(his only child), and died on February 24, 1970.
I don't have any great stories about him from dad, who told me the other day that he met Frank maybe 4 times during his childhood. I do, however, have tons of articles that were cut out of newspapers and put in a photo album about his career (some of which I haven't scanned in yet... really need to do that)!
He was a successful lawyer in Ohio from 1930-1960. In 1938 he was appointed as City Relief Commissioner (which he served from 1938-1948) and a member of the Knights of Columbus and the Fraternal Order of Eagles.
Promotion articles: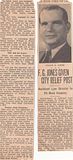 Knights of Columbus articles: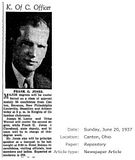 He was definitely not the kind of guy who just sat around. I'd even venture a guess that he was a bit of a workaholic - considering my grandfather was a bit of a workaholic.
My goal for the rest of this week is to rummage through old family photos and see if I can find more of Frank. At the very least, scan the rest of his news articles!
EDIT 1/15, 9:48 PM
Okay... so I went through all the shaking leaves for Frank tonight, because I'm trying to clean all the hints out in my family tree re-do. One of the leaves was his World War I Draft Registration Card. I squinted at it for a good few minutes before recognizing the words "real estate" (HEY! I'm in real estate! COOL!). After a lot more squinting and getting second opinions from mom, I somehow managed to decipher "Wolfe Sill Realty Co, 715 Garfield Bldg"... from this:

Really? Could these copies be any worse?!?
So, naturally, I ran straight to the Google machine. Long story short... I found Wolfe-Sill Realty Co in a city directory... AND a 1910 postcard with the building on it! AND I got to share the excitement of this discovery with mom! :D Only she understands getting excited about finding a photo of an old building.